Ministry / Fund Raiser / Business Opportunity
Support Your Ministry / Raise Funds / Start Your Own Business
New - Exclusive Shofar Man Product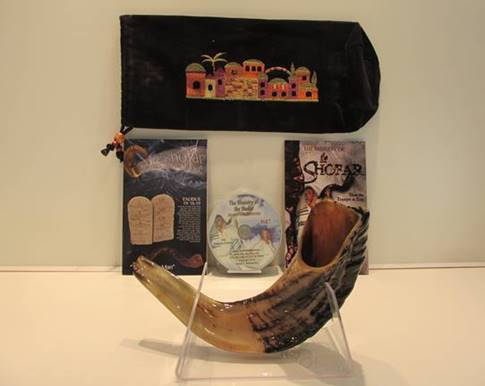 "Odor Free" 14-15 Inch Rams Horn Shofar
This Rams Horn has been Dipped in A Clear High Gloss Finish to give it a
Brilliant Shine and to Eliminate Odor (No Animal Smell)

Highest Quality Sound!
Extra Large Easy Play Mouth Piece
Acrylic Display Stand - A $11.99 Value
Embroidered Deluxe Velvet Jerusalem Carry Bag with Draw String -A $19.99 value
The Shofar Man's 7 Dvd Set- "The Ministry of the Shofar – A $69.99 Value
Book – The Shofar and the Voice of God – A $12.99 value
Book- The Ministry of the Shofar – A $10 Value
When you buy 10 of the above packages, they are only $99 per package for a Total investment of only $990 plus shipping.
If You sell each package for $199 Your profit on the sale of the 10 packages will be $1000!
That is a Remarkable profit for a $990 investment! Just Remarkable!!
If you would like to see and inspect the quality of these products before buying all 10 packages, you can purchase
1 sample package for $199.00 plus shipping . When you follow through with the purchase of the 10 pack
we will give you a credit of $199 towards it and ship you 9 more packs.
To Hear the Sound Quality of this Ram's Horn Shofar,
or to Talk with the Shofar Man, Call Jim at 219-762-7589 or email jim@step-by-step.org
1 - "Odor Free" 14-15 Inch Rams Horn Shofar Fundraising Pack
$199.00
---
10 - "Odor Free" 14-15 Inch Rams Horn Shofar Fundraising Pack
$990.00