CLICK TO RETURN TO ALPHABETICAL PRODUCT INDEX ON HOME PAGE

THE SHOFAR MAN EXCLUSIVE DISTRIBUTOR OF PROFESSIONAL TWIN YEMENITE SHOFAR
Every Professional Twin Yemenite Shofar has been tested to the number of notes it will play and what key each note is in. The mouth piece is meticulously shaped for great control of low and high notes. Poly blend coating in and out - "No Smell" These are the Rolls Royce of Shofar!
Twin Yemenite Shofar are 2 horns from the same Kudu. Very often couples in marriage will choose Twin Yemenite Shofars or prayer partners will choose these very, very RARE Twin Yemenite Shofars. These are a rare find and a great collector's item.
Twin Shofars (two horns from the same animal) are almost impossible to get. When horns are harvested, no one keeps track of pairs. About the only way to find a pair is to buy from someone who trophy hunts. This is very expensive and very limited.
The Shofar Man has a full line of Shofars including Professional Yemenite Shofar for sale. These Shofar make a unique type of Shofar sound from a traditional Jewish Shofar or Judaica Shofar including Rams Horn and Yemenite Shofar to the more exotic Shofar Horn that are used in Shofar Blowing making more unique Shofar Sounds. To buy a Shofar that produces a unique sound you will want to buy Shofar or El Shofar from this Professional Yemenite Shofar sale page.
The Shofar Man is more than a business, it is a calling!!
A Word from The Shofar Man: All Shofars are not created equal. Some have a very flat, muffled sound, while a select group have a very crisp, clear, vibrant, alive, victory shout type sound. The Shofar Man specializes in exceptional sounding Shofars with a crisp, clear, vibrant, alive sound. Do yourself a favor and do not purchase a Shofar until you have personally heard our exceptional sounding Shofars for yourself. If you call 219-762-7589, The Shofar Man will personally sound an exceptional sounding Shofar and our pro series Shofars for you and personally walk you through the whole process of getting the Shofar that is the right size for you and has the right type of month piece for you.

(PLEASE KEEP IN MIND THAT THE SHOFAR MAN TRAVELS AND TEACHES ALL OVER THE WORLD, SO IF YOU HAPPEN TO CALL WHEN HE IS OUT OF THE COUNTRY IT MAY TAKE A LITTLE TIME FOR HIM TO CALL YOU. PLEASE BE PATIENCE. IT WILL BE WORTH IT.)
Shofars don't come any better than these! These are the best of the best.

WE CURRENTLY HAVE THE FOLLOWING PROFESSIONAL PLUS TWIN YEMENITE SHOFARS IN STOCK: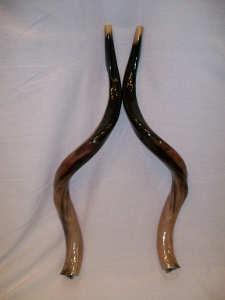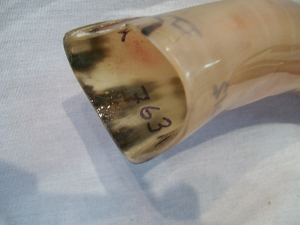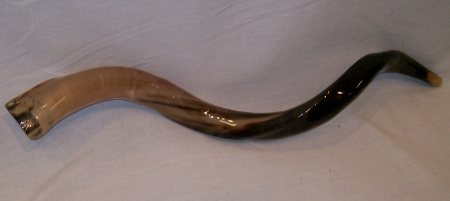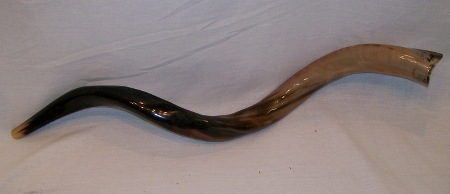 36" Professional Rare Kudu Twin Shofars; Full Polish; 22C mouthpiece (#YEMTWIN763A764B)
A Very, Very Rare Smaller Subspecies of Greater Kudu from Central Africa
These twins are slender with small bells and great sound.
763A FRONT BLOW: F#4 +07 cents; C#5 +05 cents; F#5 +08 cents; A#5 -05 cents; C#6 +11 cents
763A SIDE BLOW: F#4 -03 cents; C#5 +00 cents
764B FRONT BLOW: F#4 +11 cents; C#5 +01 cents; F#5 +12 cents; A#5 -07 cents; C#6 +04 cents
764B SIDE BLOW: F#4 -05 cents; C#5 +00 cents
Twin Shofars (two horns from the same animal) are almost impossible to get. When horns are harvested, no one keeps track of pairs.
About the only way to find a pair is to buy from someone who trophy hunts. This is very expensive and very limited.
$1290.00
***SOLD***
---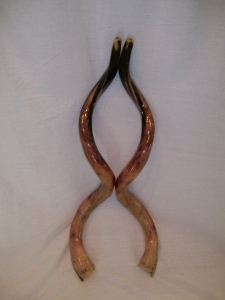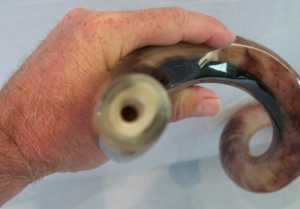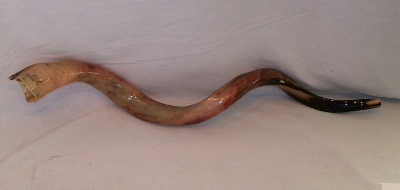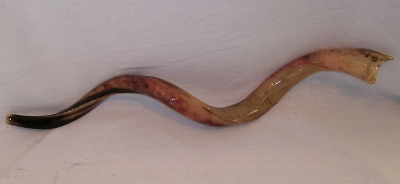 40.25" Professional Rare Kudu Twin Shofars; Full Polish; 22C Mouthpiece (#YEMTWIN43TWA43TWB)
A Very, Very Rare Smaller Subspecies of Greater Kudu from Central Africa
These Twins are About as Perfect a Set as You Can Get. Same Slender Shape- Same Size- Same Great Sound
Call to Hear Them 219-762-7589
43TWA FRONT BLOW: F4 -05 cents, 348.22hz; C5 +00 cents, 523.25hz; F5 -23 cents, 689.24hz; G#5 +00 cents, 830.61hz
B5 +26 cents, 1002.71hz
43TWA SIDE BLOW: F4 -18 cents, 345.62hz; C5 +00 cents, 523.25hz; E5 +00 cents, 659.26hz
43TWB FRONT BLOW: F4 -07 cents, 347.82hz; C5 +00 cents, 523.25hz; ; F5 -11 cents, 694.03hz; A5 -14 cents, 872.91hz
C6 +00 cents, 1046.50hz
43TWB SIDE BLOW: F4 -23 cents, 344.82hz; C5 +00 cents, 523.25hz; F5 +05 cents, 700.48hz
Twin Shofars (two horns from the same animal) are almost impossible to get. When horns are harvested, no one keeps track of pairs.
About the only way to find a pair is to buy from someone who trophy hunts. This is very expensive and very limited.
$1590.00
***SOLD***
---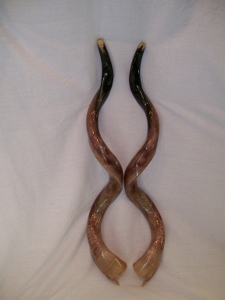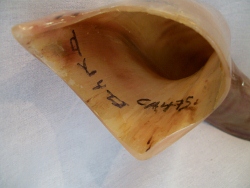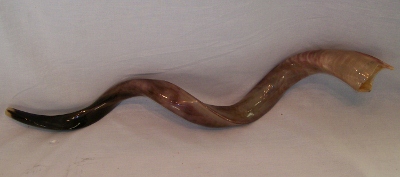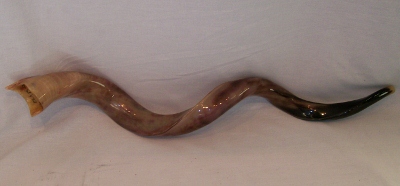 46.25" Professional Twin Yemenite Shofars; Full Polish; 22C Mouthpiece (#YEMTWIN475CA475CB)
These Twins have Beautiful Colors, Large Bells, Stately Shapes and Play Very Close to the Same Notes.
475CA FRONT BLOW: E4 +00 cents, 329.63hz; A#4 +00 cents, 466.16hz; D#5 +00 cents, 622.25hz; F#5 +28 cents, 752.05hz;
A#5 +00 cents, 446.16hz; C#6 +22 cents, 1122.26hz
475CA SIDE BLOW: E4 +02 cents, 330.01hz; B4 -18 cents, 489.34hz; D#5 +00 cents, 622.25hz
475CB FRONT BLOW: E4 +09 cents, 331.05hz; A#4 +00 cents, 466.16hz; D#5 +00 cents, 622.25hz; F#5 +21 cents, 749.02hz;
A#5 +08 cents, 468.32hz; C#6 +00 cents, 1108.73hz
475CB SIDE BLOW: E4 +12 cents, 331.92hz; B4 +00 cents, 493.88hz; D#5 +00 cents, 622.25hz
Twin Shofars (two horns from the same animal) are almost impossible to get. When horns are harvested, no one keeps track of pairs.
About the only way to find a pair is to buy from someone who trophy hunts. This is very expensive and very limited.
$2190.00
Attention International Customers
Shipping prices on the shopping cart are for United States customers only. Before placing an order to be shipped Outside the United States you will need to phone or email your order to us to obtain a shipping quote. Once we have your order and your approval on the shipping method and shipping amount we will send you an invoice for payment. email to: shofarorders@gmail.com or call 219-762-7589.
***SOLD***
---



45" Professional Plus Twin Yemenite Shofar with Keel (YEMPPTW522L523R)
You can expect up to 5 notes with each Shofar (blowing from the front of your mouth)
#522L FRONT BLOW: F4 +04 cents, 350.04hz; C5-07cents, 521.14hz; F5 -08 cents, 695.24hz;
A5 -12 cents, 873.92hz; C6 -28 cents, 1029.7hz;
#522L SIDE BLOW: F4 -05 cents, 348.22hz; C5 -43 cents, 510.41hz; F5 -08 cents, 695.24hz
#523R FRONT BLOW: F4 -05 cents, 348.22hz; C5-17cents, 518.14hz; F5 +07 cents, 701.29hz;
A5 -21 cents, 869.73hz; C6 -06 cents, 1042.88hz;
#523R SIDE BLOW: F4 -15 cents, 346.22hz; C5 -35 cents, 512.78hz; F5+14 cents, 704.13hz
These are a Rare find and a great collector's item.
Twin Shofars (two horns from the same animal) are almost impossible to get. When horns are harvested, no one keeps track of pairs. About the only way to find a pair is to buy from someone who trophy hunts. This is very expensive and very limited.
$1990.00
***SOLD***
---


45.50" Professional Twin Yemenite Shofar (#YEMTWA1-B2)
You can expect up to 6 notes with each Shofar (blowing from the front of your mouth)
A very rare smaller subspecies of Greater Kudu from Central Africa. Nice Shape and Great Sound!
A1 FRONT BLOW: D#4 +11 cents, 313.11hz; A#4 +11 cents, 469.14hz; D#5 +00 cents, 622.25hz;
G5 -03 cents, 782.63hz; A#5 +05 cents, 935.02hz; C#6 +14 cents, 1117.73hz
A1 SIDE BLOW: D#4 +00 cents, 311.13hz; A#4 -17 cents, 461.61hz; D#5 -10 cents, 618.67hz

B2 - FRONT BLOW: D#4 +00 cents, 311.13hz; A#4 +00 cents, 466.16hz; D#5 +05 cents, 624.05hz;
G5 -06 cents, 781.28hz; A#5 +20 cents, 943.16hz; C6 +02 cents, 1047.71hz
B2 SIDE BLOW: D#4 +00 cents, 311.13hz; A#4 +16 cents, 470.49hz; D#5 +00 cents, 622.25hz
Twin Shofars (two horns from the same animal) are almost impossible to get. When horns are harvested, no one keeps track of pairs.
About the only way to find a pair is to buy from someone who trophy hunts. This is very expensive and very limited.
$1890

Attention International Customers
Shipping prices on the shopping cart are for United States customers only. Before placing an order to be shipped Outside the United States you will need to phone or email your order to us to obtain a shipping quote. Once we have your order and your approval on the shipping method and shipping amount we will send you an invoice for payment. email to: shofarorders@gmail.com or call 219-762-7589.


---



45.50" Professional Twin Yemenite Shofar (#YEMTW781A-782B)
You can expect up to 6 notes with each Shofar (blowing from the front of your mouth)
A very rare smaller subspecies of Greater Kudu from Central Africa. Absolutely Beautiful Shape and Great Sound!
BEAUTIFUL SHAPE - GREAT SOUND - SOUNDS LIKE A TRUMPET
781A FRONT BLOW: D#4 +44 cents, 319.14hz; A#4 +25 cents, 472.94hz; D#5 +38 cents, 636.06hz;
G5 +26 cents, 795.85hz; A#5 -28 cents, 917.37hz; C#6 +03 cents, 1110.65hz
781A SIDE BLOW: D#4 +46 cents, 319.50hz; A#4 +37 cents, 476.23hz; D#5 +41 cents, 637.17hz

782B FRONT BLOW: D# +45 cents, 318.95hz; B4 -06 cents, 492.17hz; E5 +00 cents, 659.26hz;
G5 +39 cents, 801.85hz; B5 +05 cents, 990.62hz; D6 -11 cents, 1167.22hz
782B SIDE BLOW: D#4 +27 cents, 316.02hz; A#4 +14 cents, 469.95hz; E5 -21 cents, 651.31hz
Twin Shofars (two horns from the same animal) are almost impossible to get. When horns are harvested, no one keeps track of pairs.
About the only way to find a pair is to buy from someone who trophy hunts. This is very expensive and very limited.
$1990

Attention International Customers
Shipping prices on the shopping cart are for United States customers only. Before placing an order to be shipped Outside the United States you will need to phone or email your order to us to obtain a shipping quote. Once we have your order and your approval on the shipping method and shipping amount we will send you an invoice for payment. email to: shofarorders@gmail.com or call 219-762-7589.


---



45.50" Kudu Professional Twin Yemenite Shofar (#YEMTW783A-784B)
You can expect up to 6 notes with each Shofar (blowing from the front of your mouth)
VERY RARE GRAY/GREEN/OLIVE COLORS - THE ONLY GRAY/GREEN/OLIVE TWIN YEMENITE WE HAVE EVER SEEN!
HEAVENLY SOUND WITH FULL RANGE OF NOTES - YOU MUST HEAR THIS SET!
783A FRONT BLOW: D#4 +30 cents, 316.57hz; A#4 +30 cents, 474.31hz; D#5 +30 cents, 633.13hz;
G5 +00 cents, 783.99hz; B5 -12 cents, 982.64hz; C#6 +44 cents, 1137.27hz
783A SIDE BLOW: D#4 +25 cents, 315.65hz; A#4 +34 cents, 475.41hz; D#5 +28 cents, 632.40hz

784B FRONT BLOW: D#4 +27 cents, 316.02hz; A#4 +22 cents, 472.13hz; E5 +00 cents, 659.26hz;
G5 -05 cents, 783.09hz; B5 -19 cents, 976.99hz; C#6 +49 cents, 1140.56
784B SIDE BLOW: D#4 +28 cents, 316.20hz; A#4 +26 cents, 473.22hz; E5 +00 cents, 659.26hz
Twin Shofars (two horns from the same animal) are almost impossible to get. When horns are harvested, no one keeps track of pairs.
About the only way to find a pair is to buy from someone who trophy hunts. This is very expensive and very limited.
$2977
***SOLD***

Attention International Customers
Shipping prices on the shopping cart are for United States customers only. Before placing an order to be shipped Outside the United States you will need to phone or email your order to us to obtain a shipping quote. Once we have your order and your approval on the shipping method and shipping amount we will send you an invoice for payment. email to: shofarorders@gmail.com or call 219-762-7589.

---




45" Kudu Professional Twin Yemenite Shofar (#YEMTW921L-922R)
You can expect up to 6 notes with each Shofar (blowing from the front of your mouth)
RARE TWIN SET - BEAUTIFUL SHAPE - XLARGE BELL - LARGE WELL DEFINED KEEL - TOP QUALITY SOUND
921L FRONT BLOW: D#4 +07 cents, 312.39hz; A#4 +26 cents, 473.22hz; E5 -08 cents, 656.22hz;
G#5 -07 cents, 827.26hz; B5 +14 cents, 995.79hz; C6 -09 cents, 1051.96hz
921L SIDE BLOW: D#4 +03 cents, 311.67hz; A#4 +25 cents, 472.94hz; E5 -07 cents, 656.59hz

922R FRONT BLOW: D#4 +08 cents, 312.57hz; A#4 +29 cents, 474.04hz; E5 -17 cents, 652.81hz;
G#5 -18 cents, 882.02hz; B5 -09 cents, 982.64hz; C#6 +15 cents, 1118.38hz
922R SIDE BLOW: D#4 +10 cents, 312.93hz; A#4 +27 cents, 473.49hz; E5 -17 cents, 652.81hz
Twin Shofars (two horns from the same animal) are almost impossible to get. When horns are harvested, no one keeps track of pairs.
About the only way to find a pair is to buy from someone who trophy hunts. This is very expensive and very limited.
$2333.00

Attention International Customers
Shipping prices on the shopping cart are for United States customers only. Before placing an order to be shipped Outside the United States you will need to phone or email your order to us to obtain a shipping quote. Once we have your order and your approval on the shipping method and shipping amount we will send you an invoice for payment. email to: shofarorders@gmail.com or call 219-762-7589.

SOLD

---

46.25" Kudu Professional Twin Yemenite Shofar (#YEMTW923L-924R)
You can expect up to 5 notes with each Shofar (blowing from the front of your mouth)
RARE TWIN SET - BEAUTIFUL COLORS - LONG SLENDER SHAPE - GREAT SOUND - LOW BASS NOTE
923L FRONT BLOW: D4 +07 cents, 294.85hz; A#4 +20 cents, 471.58hz; D5 -08 cents, 584.62hz;
F#5 -18 cents, 732.33hz; A5 +18 cents, 889.20hz
SIDE BLOW: D4 -05 cents, 292.82hz; A#4 -12 cents, 462.94hz; D5 -17 cents, 581.59hz

924R FRONT BLOW: D4 +14 cents, 296.05hz; A#4 +06 cents, 467.78hz; D5 +12 cents, 591.41hz;
F#5 -19 cents, 731.91hz; A5 -16 cents, 871.90hz
SIDE BLOW: D4 +07 cents, 294.84hz; A#4 +23 cents, 472.40hz; D5 +00 cents, 587.33hz
Twin Shofars (two horns from the same animal) are almost impossible to get. When horns are harvested, no one keeps track of pairs.
About the only way to find a pair is to buy from someone who trophy hunts. This is very expensive and very limited.
$2177.00

Attention International Customers
Shipping prices on the shopping cart are for United States customers only. Before placing an order to be shipped Outside the United States you will need to phone or email your order to us to obtain a shipping quote. Once we have your order and your approval on the shipping method and shipping amount we will send you an invoice for payment. email to: shofarorders@gmail.com or call 219-762-7589.

---




48" Kudu Professional Twin Yemenite Shofars (#YEMTW929L-930R)
You can expect up to 6 notes with each Shofar (blowing from the front of your mouth)
GREAT SHAPE - BEAUTIFUL COLORS - XLARGE BELLS - CLOSE TO PERFECTLY MATCHED SOUND
929L FRONT BLOW: D4+31 cents, 298.97hz; A#4 +06 cents, 467.78hz; D#5 +01 cents, 622.61hz;
G5 -16 cents776.78hz; A#5 -12 cents, 925.89hz; C#6 -39 cents
SIDE BLOW: D4 +43 cents, 301.06hz; A#4 +02 cents, 466.70hz; D#5 +03 cents, 623.33hz

930R FRONT BLOW: D#4 -16 cents, 290.95hz; A#4 -31cents, 457.89hz; D#5 -20 cents, 615.1hz;
F#5 +23 cents, 749.89hz; A5 +12 cents, 886.12hz; C6 -17 cents, 1036.28hz
SIDE BLOW: D#4 -17 cents, 290.80hz; A#4 -18 cents, 461.34hz; D#5 -33 cents, 610.51hz
Twin Shofars (two horns from the same animal) are almost impossible to get. When horns are harvested, no one keeps track of pairs.
About the only way to find a pair is to buy from someone who trophy hunts. This is very expensive and very limited.
$2777.00

Attention International Customers
Shipping prices on the shopping cart are for United States customers only. Before placing an order to be shipped Outside the United States you will need to phone or email your order to us to obtain a shipping quote. Once we have your order and your approval on the shipping method and shipping amount we will send you an invoice for payment. email to: shofarorders@gmail.com or call 219-762-7589.

SOLD

---





49" Kudu Professional Twin Yemenite Shofars (#YEMTW927L-928R)
You can expect up to 6 notes with each Shofar (blowing from the front of your mouth)
XLARGE BELLS - WELL DEFINED KEEL - NICELY SHAPED - FANTASTIC SOUND
923L FRONT BLOW: D4 +28 cents, 298.45hz; A#4 -14 cents, 462.41hz; D#5 +12 cents, 626.22hz;
G5 +13 cents, 789.90hz; A#5 +18 cents, 942.07hz; C#6 -08 cents, 1103.62hz
SIDE BLOW: D4 +30 cents, 298.80hz; A#4 -17 cents, 461.61hz; D#5 +00 cents, 622.25hz

924R FRONT BLOW: D4 +06 cents, 294.68hz; A#4 -20 cents, 460.81hz; D#5 +00 cents, 622.25hz;
G5 -20 cents, 774.99hz; A#5 -28 cents, 917.37hz; C#6 -40 cents, 1083.41hz
SIDE BLOW: D4 +12 cents, 295.71hz; A#4 -23 cents, 460.01hz; D#5 -24 cents, 613.39hz
Twin Shofars (two horns from the same animal) are almost impossible to get. When horns are harvested, no one keeps track of pairs.
About the only way to find a pair is to buy from someone who trophy hunts. This is very expensive and very limited.
$3333.00

Attention International Customers
Shipping prices on the shopping cart are for United States customers only. Before placing an order to be shipped Outside the United States you will need to phone or email your order to us to obtain a shipping quote. Once we have your order and your approval on the shipping method and shipping amount we will send you an invoice for payment. email to: shofarorders@gmail.com or call 219-762-7589.

---



49" Very Rare Twin Kudu Professional Yemenite Shofars (#YEMTW50-150-2)
You can expect up to 5 notes with each Shofar (blowing from the front of your mouth)
These are the Biggest twin Kudu shofars we have ever seen!
RARE SIZE - GREAT SHAPE - LARGE BELLS
BEAUTIFUL BLEND OF COLORS MAUVE, BURGUNDY, CREAM, BONE
FULL RANGE OF CRISP CLEAR SOUND- AWESOME LOW BASS NOTE
You must call to hear this one 219-787-9944. The owner of these will truly have a one-of-a-kind set!
#50-1 FRONT BLOW: D4 +00 cents, 293.66hz; A#4 +00 cents, 466.16hz; D5 +00 cents, 587.33hz;
F#5 +00 cents, 739.99hz; A#5 -04 cents, 930.18hz; C6 +20 cents, 1058.66hz
#50-1 SIDE BLOW: D4 +00 cents, 293.66hz; A#4 -20 cents, 460.81hz; D5 -03 cents, 586.31hz

#50-2 FRONT BLOW: D4 -04 cents, 292.99hz; A4 +00 cents, 440.00hz; D5 +00 cents, 587.33hz;
F#5 +14 cents, 746.00hz; A#5 +00 cents, 932.33hz; C6 +29 cents, 1064.18hz
#50-2 SIDE BLOW: D4 +00 cents, 293.66hz; A4 +00 cents, 440.00hz; D5 +00 cents, 587.33hz
Can Achieve C#4 -01 cents; with loose side blow otherwise matched
Twin Shofars (two horns from the same animal) are almost impossible to get. When horns are harvested, no one keeps track of pairs.
About the only way to find a pair is to buy from someone who trophy hunts. This is very expensive and very limited.
$3333
***SOLD***

Attention International Customers
Shipping prices on the shopping cart are for United States customers only. Before placing an order to be shipped Outside the United States you will need to phone or email your order to us to obtain a shipping quote. Once we have your order and your approval on the shipping method and shipping amount we will send you an invoice for payment. email to: shofarorders@gmail.com or call 219-762-7589.

---






51.125" Very Rare Twin Kudu Professional Yemenite Shofars (#YEMTW925L-926R)
You can expect up to 6 notes with each Shofar (blowing from the front of your mouth)
These are the Biggest twin Kudu shofars we have ever seen!
HUGE BODY SIZE - ENORMOUS BELL - XLARGE WELL DEFINED KEEL
BIG BOISTEROUS SHAKING VOICE - RARE ALL BLACK MOUTH PIECE END
BEAUTIFUL COLORS - CRIMSON, BURGUNDY, PINK, MAUVE, CREAM, BEIGE AND BLACK
PLAYS A FULL SCALE OF NOTES INCLUDING A LOW RUMBLING BASS NOTE
You must call to hear this one 219-762-7589.
This is the biggest set of pro twin yemenites we have ever had. This is truly a rare collctor item - one of a kind!
#925L FRONT BLOW: D4 +33 cents, 299.32hz; A4 -10 cents, 437.47hz; D5 -41 cents, 573.58hz;
F5 -05 cents, 696.44hz; G#5 +25 cents, 842.69hz; B5 +15 cents, 996.36hz
SIDE BLOW: D4 +34 cents, 299.49hz; A4 -16 cents, 435.95hz; D5 -33 cents, 576.24hz

#926R FRONT BLOW: D4 +28 cents, 298.45hz; A4 +18 cents, 444.60hz; D5 -32 cents, 576.57hz;
F5 -01 cents, 698.05hz; G#5 +20 cents, 840.26hz; B5 +26 cents, 1002.71hz
SIDE BLOW: D4 +42 cents, 300.70hz; A4 -17 cents; D5 -37 cents, 430.70hz
Twin Shofars (two horns from the same animal) are almost impossible to get. When horns are harvested, no one keeps track of pairs.
About the only way to find a pair is to buy from someone who trophy hunts. This is very expensive and very limited.
$4333

***SOLD***

---

Click Here To See The Shofar Man's Exclusive 45 Inch Matching Yemenite Shofar