43" Green / Gray with Mauve and Burgundy Splashes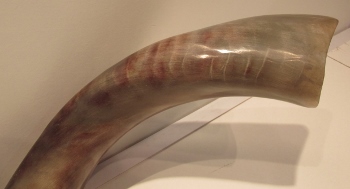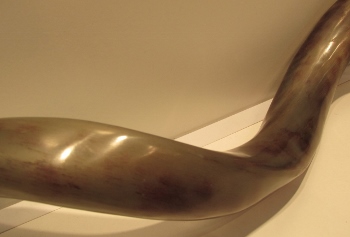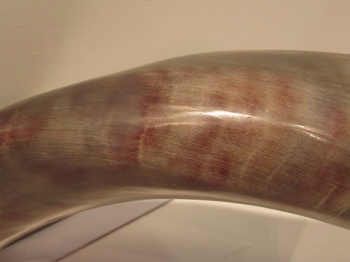 Rare one of a kind Color Combination!
Great Sound Quality!!
$777 - #YEMGRN43
---
43" Rare Professional Series
Green / Gray / Olive with Mauve and Burgundy Splashes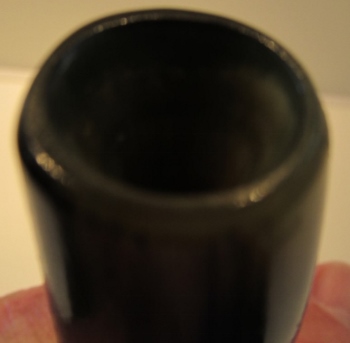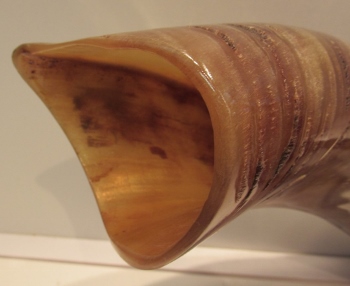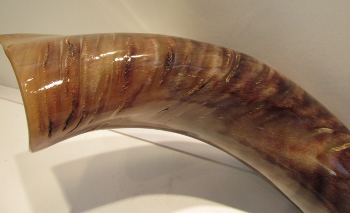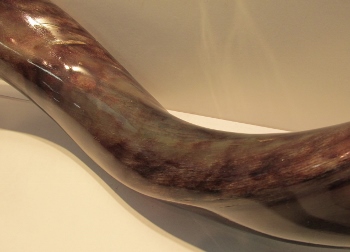 This series of Shofars has a High Gloss coating giving it a smooth, shiny, rich, deep, high gloss finish.
The finish has also been applied to the inside of the shofar to eliminate odor.
This Professional Quality Shofar Manís Pick Yemenite Shofar has musical instrument quality sound making
it one of the best shofars to use in a worship service.
Super Sound Quality
Extra Large Easy Play Mouth Piece
You Will want To Call To Hear This One 219 - 762 - 7589

$1177 - #YEMGRN43PRO
---
44" Yemenite with a Huge Golden/Green /Blonde Bell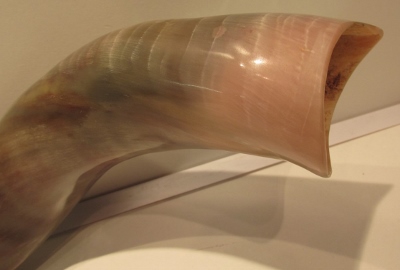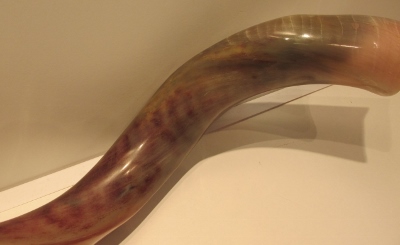 Beautiful Spiral Shape
Beautiful Colors!
This Horn has a Big Big Big Voice!
Big Easy Play Mouth Piece
You must call to hear it ! 219-762-7589
$777 - #YEMGRN44
---
45-46 Rare Green Half Natural / Half Polished Yemenite Shofar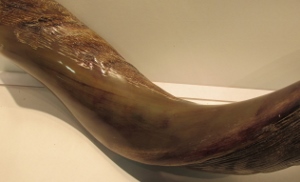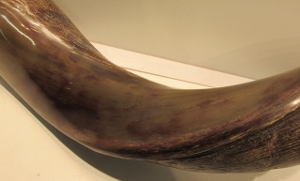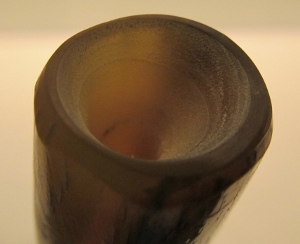 This is the Only Green Half Polished / Half Natural Yemenite we have Ever Seen!
The Green is all on the Fully Polished Portion. The Pictures just do not do this Shofar Justice.
The Green is way more Beautiful than the Pictures Show!!
Large Bell
Large Body Size
Large Easy Play Mouth Piece
Fantastic Sound Quality
You Must Call to Hear this Shofar 219-762-7589
$2177 - #GRNYEM4546
---
47.25 Inch Very Rare Dark Olive Green / Gray Trumpet Players Professional Yemenite Shofar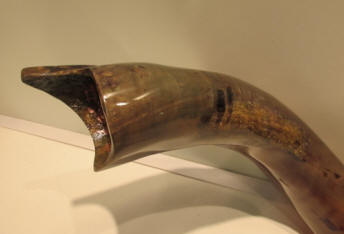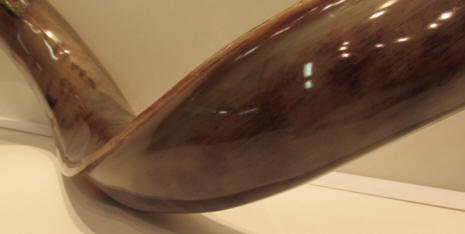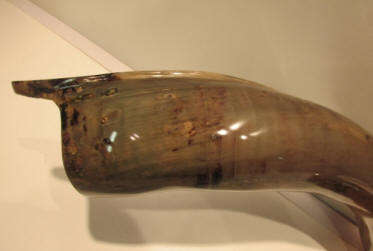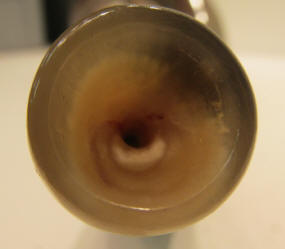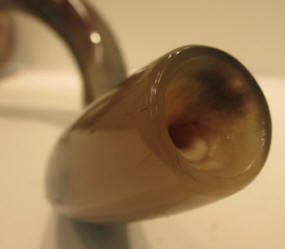 This is the only Dark Olive Green / Gray Trumpet Players Shofar we Have Ever Had !
Great Shape
Great Sound Quality
Great Colors
It's Great !!
The mouth piece on the Trumpet Players Series Professional Shofar has been meticulously shaped and sized to a 7C,
which is the standard mouth piece for a trumpet. Careful attention has been given to the throat of each shofar
to achieve the best possible clear resonance.

Our Trumpet Players Professional Series Shofars are meticulously finished, eliminating the normal dings,
dents and gouges found on and common to all shofars.
Shofars don't come any better than these! These are the Best of the Best!
Each Shofar Has Been Tested to the Number of Notes It Will Play and What Key Each Note is In.
FRONT BLOW: D4 + 18 cents, 296.73hz; A4 +08 cents, 442.04hz; D5 +24 cents,
579.53hz; F#5 +13 cents, 745.57hz; A5 -02 cents, 878.98hz

Poly Blend Coating In and Out
THESE ARE THE ROLLS ROYCE OF SHOFARS

$3333.00 - #YEMTRUMPDZK7
Attention International Customers
Shipping prices on the shopping cart are for United States customers only. Before placing an order to be shipped Outside the United States you will need to phone or email your order to us to obtain a shipping quote. Once we have your order and your approval on the shipping method and shipping amount we will send you an invoice for payment. email to: shofarorders@gmail.com or call 219-762-7589.
---
Super Rare Green Yemenite and Green Rams Horn Set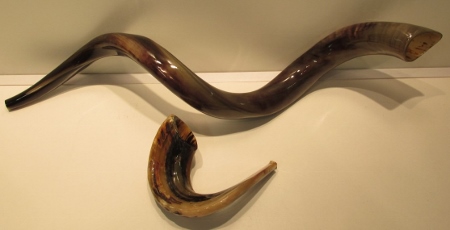 These Odorless Shofars have been Meticulously Cleaned and Finished by a Perfectionist!
A Clear High Gloss Finish has been applied to the Outside of the Shofars to give them a Brilliant
Shine and to the Inside to Eliminate Odor.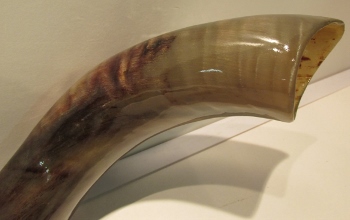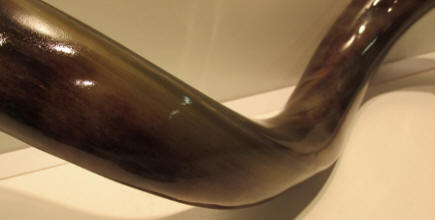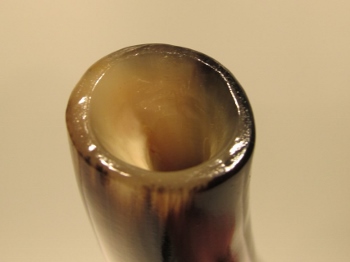 39 ď Golden Green Olive Mauve Yemenite
Great Compact Shape Will Easily Fit In Most Suitcases
Extra Large Easy Play Mouth Piece
Fantastic Crisp Clear Big Horn Sound Quality
15" Rare Tiger Striped Green Fire Ramís Horn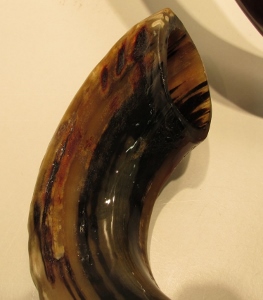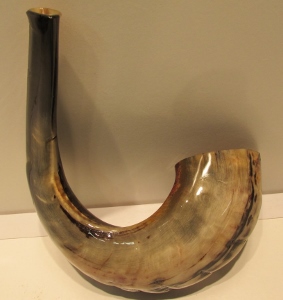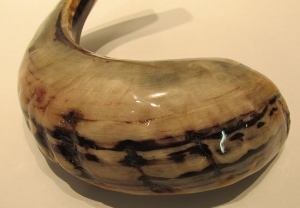 This Ramís Horn has a Rainbow of colors including green, jade, olive, rust, orange, yellow, gold,
cream, brown and black. As well as Tiger Striped markings and Fire markings.
Nicely curled Compact body which will fit easily in a Pocket or Purse.
Nicely Flared Extra Large Easy Play Mouth Piece
These 2 Shofars are part of the Shofar Manís Pick Series
The Shofar Man takes the best sounding shofars and selects the best of them to be made into The Shofar Man's Pick!
$1333 - #GREENSET
This package includes a Free velvet carrying cases, the Shofar Man's 8 DVD teaching series about the Shofar,
The Shofar and the Voice of God book and The Ministry of the Shofar book.
This Package has been put together to help Mentor those the Father is Calling to Sound the Shofar!
---
40 INCH RARE GREEN ,OLIVE, BROWN, BLACK YEMENITE SHOFAR