GABRIELI TALLIT GIFT PACK - TALLIS - TALIS - TALIT
The Shofar Man carries the Gabrieli families artistic, hand woven, 3 piece tallit set including - talit, kippa and talis bag. They are made in several exclusive designs of wool, cotton and silk. Fast USA Shipping!!
Gabrieli tallits are not machine made. Each tallit is hand woven on a loom. Because every tallit is hand made by a different weaver, patterns can vary from tallit to tallit. In general, tallits will look very close to the pictures below with some pattern variation.
The Shofar Man has a huge, extensive inventory in stock in the USA. 99% OF OUR TALLITS ARE IN STOCK AT ALL TIMES! Same day shipping to most of USA in 3-4 BUSINESS days. To most parts of the world in 5-7 BUSINESS days.
Overnight and 2nd Day Air available upon request.
For a Limited Time - Receive the Free Gift Pack at the bottom of this page with every tallit purchased from this page.
Attention International Customers
Shipping prices on the shopping cart are for United States customers only. Before placing an order to be shipped Outside the United States you will need to phone or email your order to us to obtain a shipping quote. Once we have your order and your approval on the shipping method and shipping amount we will send you an invoice for payment. email to: shofarorders@gmail.com or call 219-762-7589.

Prayer Shawls are often called Tallit, talit, tallits, tallit Prayer Shawl, Jewish prayer Shawls, Hebrew Prayer Shawl, The Prayer Shawl, Tallis, Talis, Talleisim and are sometimes used in Prayer Shawl ministry. The Shofar Man has beautifully knitted Prayer Shawl in every imaginable Prayer Shawl pattern for men as well as Tallit for women including wool tallit, silk tallit, hand woven tallit, handwoven tallit, tallit shawl, Jewish tallit, and tallit sets. Gabrieli Tallits are High-End Jewish gifts sold at all the best Judaica stores, Jewish stores, Judaica gift shops and Judaica gifts suppliers.
WOOL CHUPPA TALLIT
SILK TALLITS
The Gabrieli Family's selection of tallits is so big, they have so many styles and colors to choose from that we are not able to have them all on this web page. (Everything on this web page is in stock and ready to ship from our US warehouse.)
If you see a Gabrieli tallit in a catalogue or on another website and you do not find it on this page, we can get it for you. Please keep in mind, Gabrieli tallits are hand woven on a loom by different weavers. Every weaver has their own style, so patterns may vary from what you have seen in Gabrieli's catalogue or other website. Call for details 219-762-7589.
FREE PRAYER SHAWL
24x72" Traditional Lightweight Tallit
(A $50 Value)
Available in 10 Colors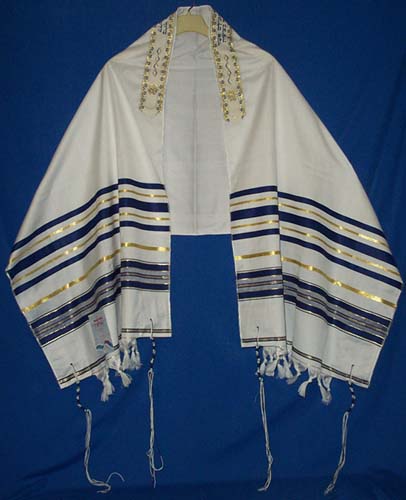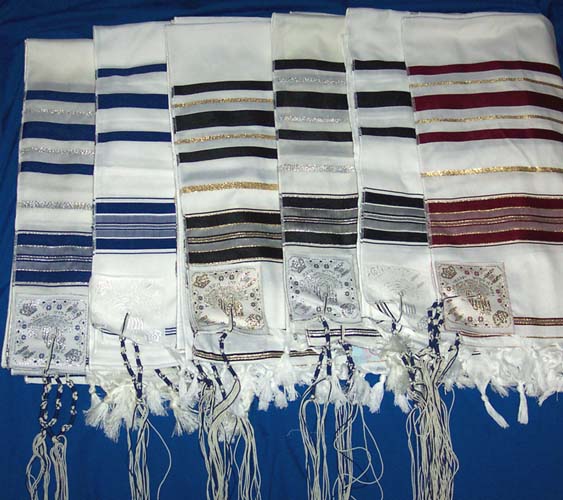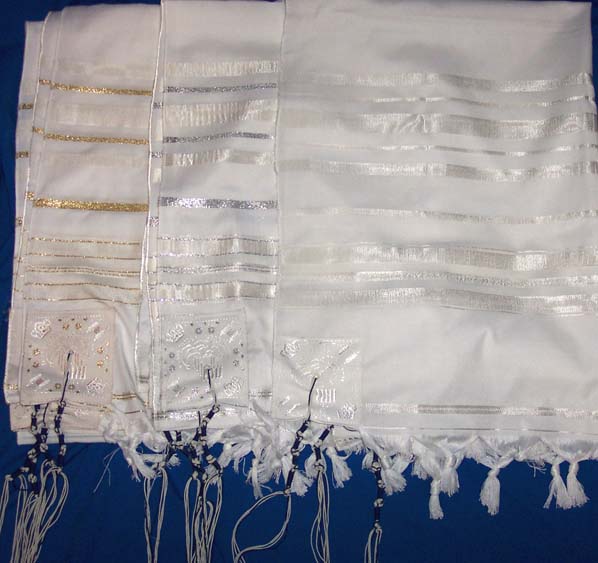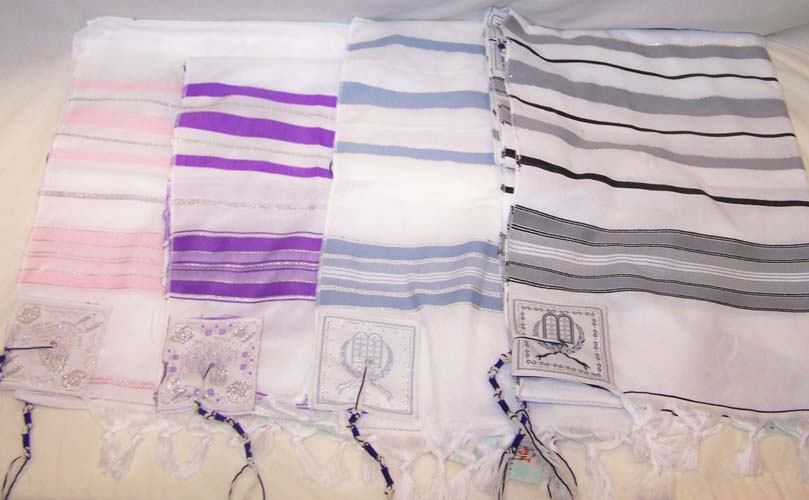 The above prayer shawl is free with the purchase of any prayer shawl on this page priced at $60 or more. Color will be determined by availability at the time of filling your order. You can pick your first and second choice of color, and we will honor it if we can. If no choice is indicated, we will select one for you.
Free Prayer Shawl (A $50 Value)
Free Audio CD or Keychain (A $7.00 Value)
Free Shipping (A $25.00 Value*)
Value of All FREE GIFTS When You Purchase Select Shofar Man Tallits is $83.00.
*Our major competitors are located in Israel. This shipping value represents the minimum you would pay to have a tallit shipped from Israel.